Richard Garriott
Space Traveler
In 2008, Richard Garriott , a leading expert on private and commercial space travel, realized a lifelong dream to travel to space when he launched aboard the Russian Soyuz TMA-13 spacecraft to the International Space Station and became the sixth private citizen to fly in Earth's orbit. In doing so, he became the first second-generation American in space, following the same path of his father Owen Garriott, who completed two space missions in his NASA career.
Having caught the space bug as a child from his father, Garriott has held a passion for the space industry and has invested in various related ventures such as the Zero-G Corporation, X-Prize and Spacehab. He is chairman of Space Adventures, Ltd., the world's premier private space exploration company. He is also on the board of the Challenger Center for Space Science Education.
Earlier in his career, Garriott designed the Ultima role-playing games, one of the most successful computer game series ever. His many awards include Entrepreneur of the Year from Inc. magazine and Computer Gaming World's 15 Most Influential Industry Players. He is vice president and creative director for the Austin-based social media games developer and publisher, Portalarium.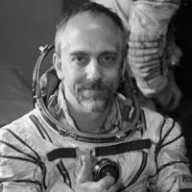 Recent Videos