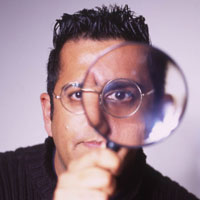 Author, Science Journalist, Producer
Simon Singh's documentary about Fermat's Last Theorem was the winner of a BAFTA in the UK and was nominated for an EMMY. His publication on the same subject, Fermat's Enigma, is the first book about mathematics to become a number one bestseller in the UK, and has since been translated into 30 languages. His other literary accomplishments include The Code Book (a history of encryption), Big Bang (a history of cosmology), and Trick or Treatment: Alternative Medicine on Trial.
Before joining BBC Science as a TV producer, Simon Singh completed a Ph.D. in particle physics at Cambridge University and CERN. In 2008, the British Chiropractic Association (BCA) sued Singh for an article criticizing claims to treat various childhood conditions. The case ended in 2010, when the BCA withdrew their action, thereby vindicating Singh's original publication. Simon has spent the last two years as a member of the Libel Reform Campaign, which aims to bring English libel law in line with levels of free speech in other democratic countries.