Andrea Lommen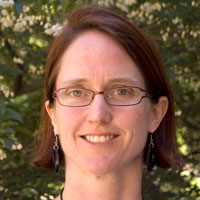 Astrophysicist
Andrea Lommen has been a pioneer in detecting gravitational waves with pulsars. While the idea of using pulsars to detect gravitational waves has been around for more than 30 years, Dr. Lommen's research, and that of the team she leads, has taken theoretical concepts and transformed them into experimental practice.
Dr. Lommen is chair of the North American Nanohertz Observatory of Gravitational Waves (NANOGrav), a consortium of astronomers from all over the U.S. and Canada, committed to studying the gravitational wave universe using pulsar timing arrays. Recently the National Science Foundation awarded her a five-year prestigious Career Award for her work in detecting gravitational waves with pulsars.
At Franklin and Marshall College, where she is an associate professor of Astrophysics, she is committed to creating the first generation of gravitational wave astrophysicists, those whose careers will mature after the first detection of gravitational waves, and who will spend their time "seeing" the gravitational wave universe.