Buzz Hays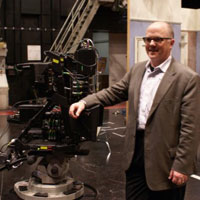 3D Pioneer
Buzz Hays is one of the pioneers in the field of 3D production, who in recent years was responsible for overseeing the adaptation of standard-release feature films into three-dimensional stereoscopic versions for the IMAX 3D and Real D platforms. Hays' work included adapting Robert Zemeckis' Beowulf. Other projects for Sony Pictures Imageworks included the Imagemotion performance-capture animated film Monster House and the first CG feature from Sony Pictures Animation, Open Season.
As Senior Vice President, Sony 3D Technology Center, Sony Corporation of America, Hays is the Chief Instructor for the Center, dedicated to the creation of good 3D across movies, television, games and other platforms. He is responsible for all curriculum development, instruction and training for a broad range of people across the entertainment industry.
In 1993, Hays co-produced the independent film, Swimming With Sharks. While at Lucasfilm THX, he was responsible for all research and development efforts including the THX Sound System and Home THX. He also oversaw the design, construction and installation of over 600 movie theaters and film dubbing stages worldwide.