Emily Levine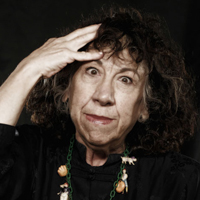 Comedian
Emily Levine has recently upgraded herself to Emily 3.0. Emily 1.0 was a stand-up comedian, appearing in comedy clubs and on Dave Letterman's Late Night TV show, among others. Emily 2.0 was a television writer/producer, working on shows such as Designing Women, Love and War, and Dangerous Minds. At Universal Studios and The Walt Disney Company, she created and produced pilots for ABC, NBC, CBS, and HBO.
During Levine's two years at Disney, she read a book on Chaos Theory but found no studio executives, let alone Mickey and Goofy, interested in discussing it. Serendipitously, she was invited to speak at two think tanks: USC's Institute for the Study of Women and Men and a physicists' think tank in La Jolla. This led to a new focus on the interface between science and society and her current incarnation.
Emily 3.0 provides regular commentary for The No Show on WNYC, presents at conferences such as TED and eg; speaks to corporate and college audiences; and performs in theatrical venues such as the 92nd Street Y and the Ensemble Studio Theatre, where she developed "Emily at the Edge of Chaos." She is currently in pre-production for the film version of this piece.