Louie Psihoyos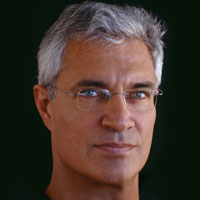 Documentary Filmmaker, Photographer
Louie Psihoyos (rhymes with Sequoias) has been widely regarded as one of the top photographers in the world. He was hired directly out of college to shoot for National Geographic and created images for the yellow-bordered magazine for 18 years. His ability to bring humanity and wit to complicated science stories carries over to his filmmaking. He has also shot for dozens of other magazines including Fortune, Smithsonian, Discover, GEO, TIME, Newsweek, The New York Times Magazine, New York Magazine, Sports Illustrated and Rock and Ice. His work has been seen on the Discovery Channel, National Geographic Television, and the History Channel. Museums and private collectors around the world have shown Psihoyos' photography.
In 2005, he and Jim Clark created The Oceanic Preservation Society (OPS). This Boulder-based nonprofit seeks to show the world the beauty and threats to our planet's crucial resource, our oceans.
His first film, The Cove has won more than a hundred awards around the world, including an Oscar. It has also inspired millions of individuals towards action to save the environment. His next film project looks at the current mass extinction of species caused by mankind.