Michio Kaku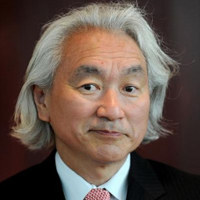 Theoretical Physicist
Michio Kaku is one of the founders of string field theory, a field of research within string theory. He's also the host of Sci Fi Science, the top-rated new series on the Science Channel, which is based on his New York Times best-selling book Physics of the Impossible. A theoretical physicist and a tireless popularizer of science, Kaku has published extensively in string theory since 1969.
Dr. Kaku is the Henry Semat Professor at the City College of New York and the Graduate Center of the City University of New York, where he has taught for more than 30 years. Many of the ideas he first explored have since blossomed into active areas of string research. He has written several best-selling popular books, including Hyperspace, selected as one of the best science books of 1994 by both The New York Times and The Washington Post, and Parallel Worlds, a finalist for the Samuel Johnson Prize.
He is active in both television and radio, working with the BBC and the Discovery Channel and hosting two weekly radio programs which reach 130 cities.