Monty P. Jones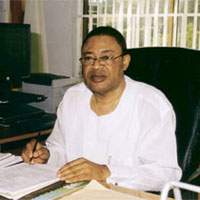 Agricultural Geneticist
Monty Jones is co-winner of the prestigious 2004 World Food Prize, awarded for his discovery of the genetic process to create the New Rice for Africa (NERICA) which gives higher yields, shorter growth cycles and more protein content than its Asian and African parents.
Dr. Jones, a Sierra Leonean, has spent the past 23 years in Africa working on international agricultural research for development institutions. His work on NERICA has increased rice production in West, East and Central Africa and created savings for many African governments. In September 2001, he received the National Order of Merit of Côte d'Ivoire given by the Ivorian president. In 2004, he also received the Insignia of the Grand Officer of the order of the Rokel from the Sierra Leone president for his work on NERICA.
As the Executive Director of the Forum for Agricultural Research in Africa since 2002, Dr. Jones has mobilized key decision makers including the African Union and the New Partnership for Africa's Development, as well as major investors in African agriculture development to work together towards the achievement of Africa's vision. He was listed as one of the 100 most influential people in the world by Time magazine for 2007. He is also the Chairman of the Global Forum on Agricultural Research (GFAR).