Roald Hoffmann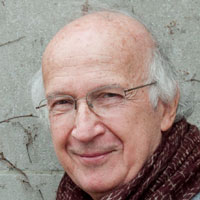 Chemist, Poet, Playwright, Nobel Laureate in Chemistry
Roald Hoffmann is a professor of chemistry and the Frank H.T. Rhodes Professor of Humane Letters Emeritus at Cornell University in Ithaca, New York. An internationally respected researcher, he is also a committed teacher and proud to have taught the first-year chemistry course almost without interruption for his entire academic career. He is a graduate of both Columbia and Harvard Universities.
The chemical properties of a substance follow from the properties of its atoms and can be calculated. But it takes ingenuity and a commitment to understanding (rather than simulation) to translate those numbers into explanations. This is what Hoffmann has consistently done; for his theoretical contributions to the molecular science, Hoffmann was awarded the 1981 Nobel Prize in Chemistry.
As a writer, Hoffmann has carved out a land between poetry, science, and philosophy, through many essays, four nonfiction books, five volumes of poems and three plays. He was the host of the PBS series The World of Chemistry and is the founder of the Entertaining Science program at Cornelia Street Café in New York City, which brings the wonder (and, yes, playfulness) of science to an intellectually curious public. Among his many honors and awards, he is unique in holding American Chemical Society Awards in three different subfields: organic (1969) and inorganic chemistry (1982) as well as chemical education (1996).
Photo credit: Michael Grace-Martin