The national conversation on climate change is far too politicized to be productive; in this environment, the earnest presentation of facts and studies isn't bringing the reality of rising seas home to people. Advocates who want to be effective have to get a little more creative…like a growing cadre of artists interested in creating portraits of what's to come, and what we might lose. Here's just a small sample of some great art projects trying to give people tools to imagine the unthinkable.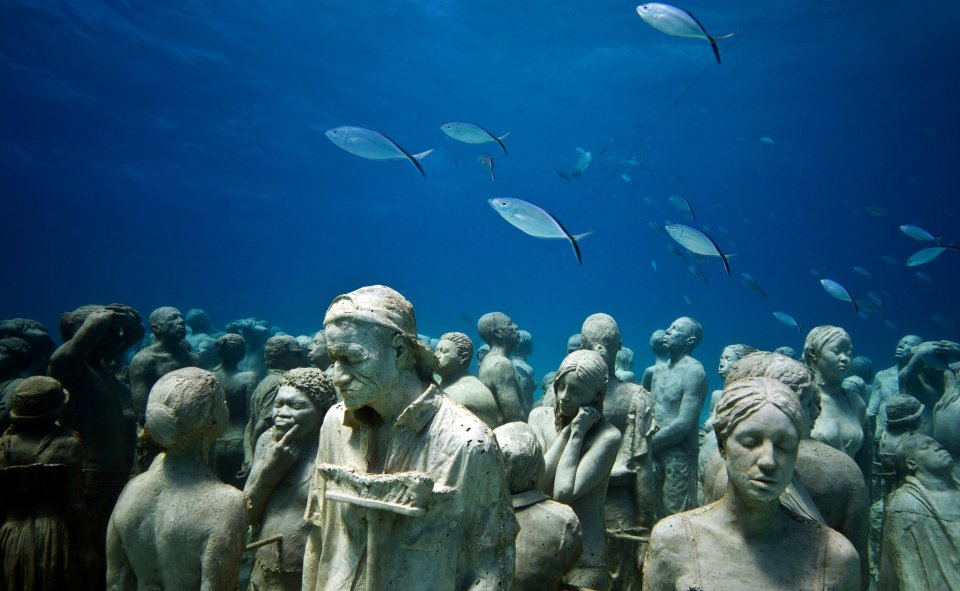 Image credit: Jason de Caires Taylor
Jason de Caires Taylor's underwater sculptures are bittersweet, submerging vulnerable human forms in barren, shallow seas. Taylor has worked with scientists to craft his art with materials that promote coral growth. In time, these artistic warnings will become bulwarks against the changing seas, organically transforming into new underwater habitats.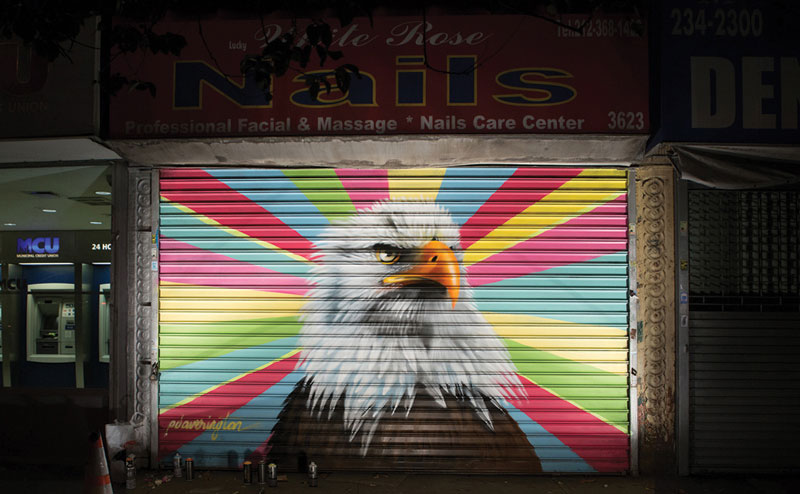 Image courtesy Camilla Cerea/National Audubon Society
To promote its landmark report on the current and anticipated effects of climate change on birds, the National Audubon Society is commissioning painters (and recruiting willing business owners) to emblazon the streets of Manhattan with portraits of threatened birds. Each piece is tagged with a URL leading back to an Audubon page with links to the report and information on how to help birds.
Above, on a metal shutter on Broadway between 149th and 150th streets, Australian-born painter Peter Daverington has painted a bald eagle, a species set to lose 73 percent of its current breeding range by 2080, according to the Audubon climate report.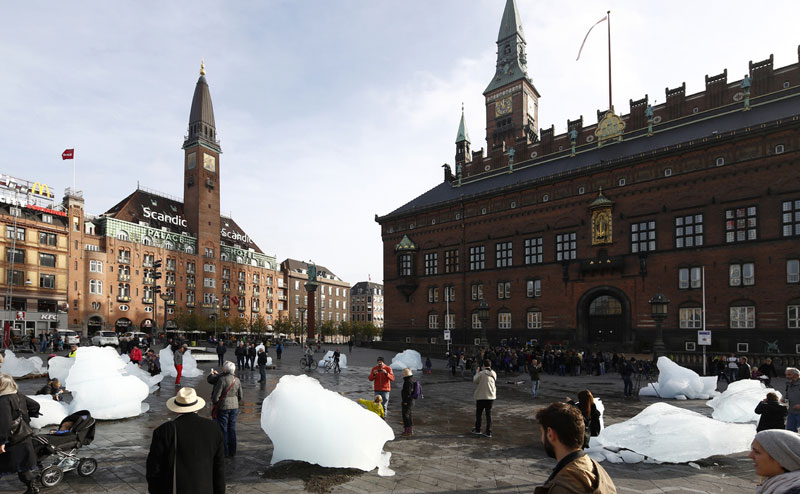 Image courtesy Olafur Eliasson
For their project "Icewatch," artist Olafur Eliasson and University of Copenhagen geologist Minik Rosing hauled 100 tons of Arctic ice out of the ocean and arranged it in a circle of blocks in front of the Danish climate ministry building in Copenhagen's city hall square. The twelve blocks melted (no, this didn't add to the problem they were meant to highlight—the ice chunks were plucked from the sea only after they had calved off of a glacier and were going to melt anyway; plus the amount of ice used in the art pales in comparison to the amount that melts every day).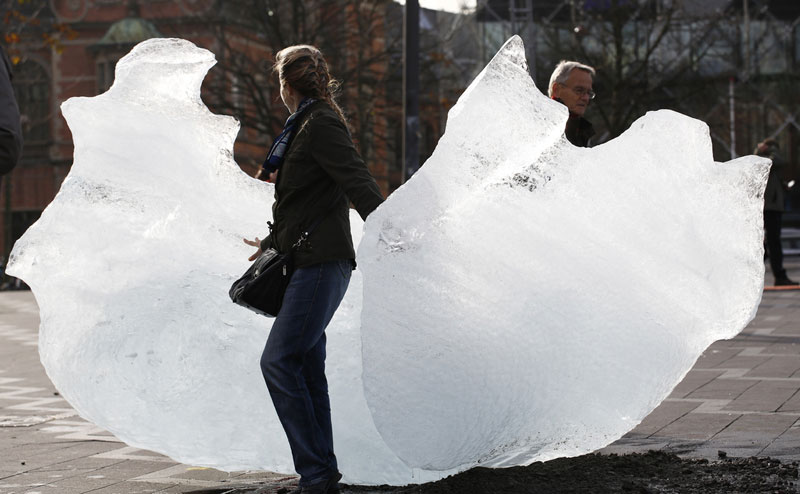 Image courtesy Olafur Eliasson
"As an artist, I am interested in how we give knowledge a body," Eliasson said in a statement. "What does a thought feel like, and how can felt knowledge encourage action? We are all part of the 'global we'; we must all work together to ensure a stable climate for future generations."

In 2010, artist-activists backed by the David Suzuki Foundation, a Canadian environmental nonprofit, created a stark foreshadowing of rising sea levels with The Tideline Project. The project's artists gathered shells from local seafood restaurants and assembled them into installations wrapped around utility poles throughout Vancouver, creating the impression of a tide pool city getting a short breather before the waves crept back in.
Featured image credit: Jason de Caires Taylor
By: World Science Festival Staff
Sign up for our free newsletter to see exclusive features and be the first to get news and updates on upcoming WSF programs.